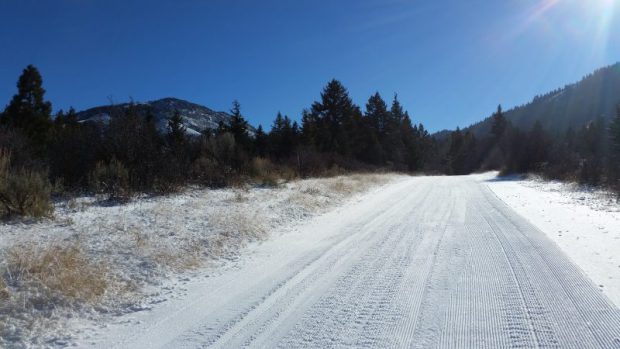 2019-2020 Wednesday Night Fun Race/Tour Series
Wednesday Night Fun Races are not about competition; they are about enjoying getting together on a weeknight with friends and good food. This year in conjunction with a Fun Race we would like to offer an organized tour based on interest. If you want to ski hard or just smack talk your friends come race and if you want an easy ski join us for an easy tour or ski on your own.  Please email Randy at [email protected] if you are interested in leading a Tour or participating. Tours will ideally last no longer than an hour in length and based on group interest and abilities.
Please join us even if you don't ski. For those that do not have classic and skate skis bring what you have (or snowshoes). There are no age or ability restrictions or any race fees but a trail pass is required (reduced rate of $3 for each Fun Race/Tour). Students may participate without a trail pass.
Following each Race/Tour will be a potluck dinner. There is a lot of room for creativity here. If you're struggling for ideas feel free to contribute whatever is easy or just show up and enjoy the company. Thanks to Elaine Tobias and Karen Blanchard for the Ingredient-based dinner themes. The Season Series is dedicated to these two ladies who turn every get together into a party. Cheers!
| | | | |
| --- | --- | --- | --- |
| Date and Time: | Suggested Dinner Ingredients: | Fun Race or Tour: | Time: |
| Dec 18 | Beans | 5K Skate | 4:30PM |
| Jan 1 | No dinner | Relay | 12:00PM |
| Jan 8 | Ginger | 5K Classic | 4:45PM |
| Jan 22 | Tofu | 5K Skate | 5:00PM |
| Feb 5 | Pumpkin | 5K Classic | 5:15PM |
| Feb 19 | Pasta | 5K Skate | 5:30PM |
| Mar 4 | Curry | 5K Skate | 5:45PM |
| Mar 11 | Paprika | Hill Climb | 6:00PM |
2019 New Year's Fun Race Pursuit Video
New Year's Day Pursuit Video #1 Skate
Old Mexico night at the Fun Race Video January 21st, 2015 (it's all about the food)
1-Jan-2015 fun race pursuit results
March 2014 Pictures
Check out Todd Nunan's video featuring Olympic Nordic Combined skiers  Bryan Fletcher and Billy Demong: