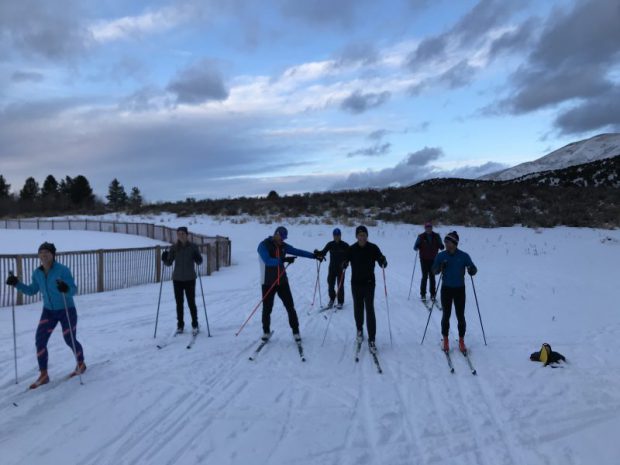 2022-2023 Wednesday Night Fun Race/Tour Series
Fall Bonus Fun Races/Tours
November 30th 4:45PM
Skate
December  14th 4:30PM
Classic
January 1st
High Noon, Classic&Skate
The City will be leading a tour for those interested. Please stick around for apr' skee afterwards. Once the A-frame is open, rentals will be available. I'll keep you posted when that happens.
As always, a trail pass is absolutely required.
Post snacks and refreshments after each of these events. The regular season Fun Race/Tours with dinners will begin in January and I hope to have the schedule posted by mid-December. It's not too late to send me your theme/dinner requests. Some that are likely to make the schedule include game night (animals not cards), pizza night and the return of the Full Moon Tour. Stay tuned…
Wednesday Night Fun Races are about enjoying getting together on a weeknight with friends. Whether you ski easy, hard or not at all, you won't ever regret watching the sunset on Scout Mountain with friends!
Besides each Fun Race there will be an organized tour based on interest. If you want to ski hard or just smack talk your friends, come race and if you want an easy ski join us for a relaxed tour or ski on your own.  Tours will ideally last no longer than an hour in length and based on group interest and abilities.
Please join us even if you don't ski. For those that do not have classic and skate skis bring what you have (or snowshoes).
There are no participation fees but a trail pass is absolutely required.
COVID UPDATE: The potluck dinners in the yurt are back on. However, if there is a resurgence of Covid we will go back to the outdoor fire ring and adhere to current CDC guidelines. DO NOT ATTEND  if you are experiencing Covid symptoms.
This Season Series is dedicated to US Cities. Cheers!
| | | | |
| --- | --- | --- | --- |
| Date and Time: | US City: | Fun Race or Tour: | Time: |
| Jan 1 | Pocatello (snacks) | Classic and Skate | 12:00PM |
| Jan 5 | New York City (dinner) | 5K Classic | 4:45PM |
| Jan 19 | Boston (dinner) | 5K Skate | 5:00PM |
| Feb 2 | New Orleans (dinner) | 5K Classic | 5:15PM |
| Feb 16 | Chicago (dinner) | 5K Skate/Full Moon Tour | 5:30/7:30PM |
| Mar 2 | Nashville (BBQ) | Hill Climb (Skate) | 6:00PM |
| | | | |
2019 New Year's Fun Race Pursuit Video
New Year's Day Pursuit Video #1 Skate
Old Mexico night at the Fun Race Video January 21st, 2015 (it's all about the food)
1-Jan-2015 fun race pursuit results
March 2014 Pictures
Check out Todd Nunan's video featuring Olympic Nordic Combined skiers  Bryan Fletcher and Billy Demong: